Partnering for Change: Stakeholder Newsletters
Partnering for Change (P4C)
We are excited to provide you with an update on our progress! We continue to share the results of the P4C study at conferences and are continuing to increase awareness of developmental coordination disorder (DCD). We are committed to moving the P4C service delivery model forward and we have been invited to submit a proposal to the Ministry of Health for future funding. We have also received funding to develop two additional online educational module/workshops to increase knowledge of DCD for physicians and physiotherapists. We will continue to keep stakeholders informed of our progress.
Now Available – Online Education about DCD
We have an online workshop available on the CanChild website designed to increase knowledge about DCD and other motor coordination challenges and to increase confidence in supporting a child's development and participation. It was designed originally for parents, but is useful for others as well including teachers, health professionals, coaches, family members and friends. It is interactive in nature and takes approximately 60 minutes to go through, but can also be done in shorter segments. The workshop explains what DCD is and provides an overview of the causes of DCD, how DCD is diagnosed, typical motor development and of other health conditions that are related to DCD. Users can view video clips and complete an exercise that guides them to feel what it is like to have DCD.
Just Received – Funding to develop DCD workshops for Physicians and Physiotherapists
The Waterloo Foundation. $31,500, 2012-2013. Development of an on-line workshop to support physicians in identifying, diagnosing and managing Developmental Coordination Disorder. Missiuna, C., Kirby, A. (Co PIs), McLean, J., Harms, S., Cairney, J., Gaines, R., & Pollock, N. Physiotherapy Foundation of Canada. $10,000, 2012-2013. Development and evaluation of an online knowledge tool to support evidence-based physiotherapy management of children with developmental coordination disorder. Rivard, L. (PI), Camden, C. (Co PI), Missiuna, C., & Pollock, N. We are currently designing two additional DCD workshops, one for Physicians and another for Physiotherapists. These will be available on the CanChild website in spring 2013.
Spreading the Word – Recent Publications and Presentations about P4C
Published Articles
Campbell, W., Missiuna, C., Rivard, L., & Pollock, N. (2012). "Support for everyone": Experiences of occupational therapists delivering a new model of school-based service. Canadian Journal of Occupational Therapy, 79(1), 51-59.
Missiuna, C., Pollock, N., Campbell, W., Bennett, S., Hecimovich, C., Gaines, R., DeCola, C., Cairney, J., Russell, D., & Molinaro, E. (2012). Use of the Medical Research Council Framework to develop a complex intervention in pediatric occupational therapy: Assessing feasibility. Research in Developmental Disabilities, 33(5), 1443-1452.
Missiuna, C., Pollock, N., Levac, D., Campbell, W., Sahagian Whalen, S., Bennett, S., Hecimovich, C., Gaines, R., Cairney, J., & Russell, D. (2012). Partnering for Change: An innovative schoolbased occupational therapy service delivery model for children with developmental coordination disorder. Canadian Journal of Occupational Therapy, 79(1), 41-50.
Presentations: Peer-Reviewed
Missiuna, C., Pollock, N., Hecimovich, C., Sahagian Whalen, S., Gaines, R., Russell, D., Rosenbaum, P., Bennett, S., Campbell, W., Levac, D., Rivard, L., DeCola, C. & Cairney, J. (accepted). Partnering for Change: Transforming health services for children with developmental coordination disorder. System innovation poster to be presented at the Canadian Association of Paediatric Health Centres (CAPHC) Annual Conference, Vancouver, BC, October, 2012
Missiuna, C., Pollock, N., Hecimovich, C., Sahagian Whalen, S., Gaines, R., Russell, D., Rosenbaum, P., Bennett, S., Campbell, W., Levac, D., Rivard, L., DeCola, C. & Cairney, J. (accepted). Partnering for Change: Transforming health services for children with developmental coordination disorder. Demonstration poster to be presented at the American Academy for Cerebral Palsy and Developmental Medicine (AACPDM), Toronto, ON, September, 2012.
Missiuna, C., Pollock, N., Bennett, S., Campbell, W., & Hecimovich, C. (2012, June). Partnering for Change: An innovative service delivery model for building educator and family capacity to help struggling students succeed. Paper presented at the 3rd National Symposium on Child and Youth Mental Health, Calgary, AB.
Missiuna, C., Pollock, N., & Cairney, J. (2012, June). What may be happening to those "fine motor kids"? Paper presented at the Canadian Association of Occupational Therapists Annual Conference, Quebec City, QC.
McKechnie, A., Embrey, T., Pollock, N., & Missiuna, C. (2012, June). Empowering parents through education: An online workshop on developmental coordination disorder. Paper presented at the Canadian Association of Occupational Therapists Annual Conference, Québec City, QC.
Missiuna, C., Polatajko, H., & Pollock, N. (2012, June). Evolving toward more strategic management of children with DCD. Extended Discussion at the Canadian Association of Occupational Therapists Annual Conference, Québec City, QC.
Rivard, L., & Levac, D. (2012, May). Developmental Coordination Disorder (DCD): Using knowledge translation as a physiotherapy management strategy. Educational workshop presented at the Canadian Physiotherapy Association Congress "Expanding Horizons", Saskatoon, Saskatchewan
Partnering for Change: A Success Story!
Many of you will recall our first meeting, in July 2008, when stakeholders were asked the question – "Three years from now, when the project is finished, how will we know it has been successful?" We outlined a number of indicators at the child, family, educator, OT and system level. In particular, stakeholders noted that success would mean:
Child-level indicators:
needs are identified earlier




greater feelings of acceptance and diminished feelings of isolation




enhanced success and achievement in later grades




improved mental health/social functioning/self-concept




greater participation in the classroom



Family-level indicators:
parents report that their children's needs are being met in the school system




parents have enhanced knowledge and capacity to meet their child's needs at home and are

aware of strategies to implement




families are considered as part of the team and are respected and empowered




parents are better prepared to be advocates for their children




parents have an enhanced understanding of the long-term issues and secondary problems related

to Developmental Coordination Disorder (DCD)



Teacher-level indicators:
increased skills, competence, confidence, and satisfaction




ability to transfer and generalize knowledge with respect to strategies for managing

coordination difficulties to other children in subsequent classes




increased 'bag of tricks' in terms of more tools and strategies




increased teacher capacity and knowledge with respect to coordination challenges




greater understanding of typical and atypical motor development




better able to recognize the 'red flags' that suggest coordination challenges




better able to advocate for children with DCD




increased understanding of the importance of participation and function for these children



OT-level indicators:
viewed as an integral part of the school team and are seen as educators and mentors




development of effective collaborative relationships with teachers




opportunities to provide services in different ways (e.g. opportunities to provide keyboarding

groups, to be present at parent-teacher nights, etc.)



System-level indicators
waitlists for OT services are decreased




children who need services are receiving them




the model is sustainable




de-emphasis on the medical model and the need for diagnosis prior to carrying out actions




there is a seamless circle of care which includes everyone in the child's environment



We are now able to reflect back and are pleased to report that Partnering for Change achieved nearly all of the outcomes that stakeholders originally outlined. The research study was completed in the past year after we conducted and analyzed interviews of participants. The reports of parents, teachers, administrators and occupational therapists showed that this model of delivering occupational therapy services in school settings was highly successful!

What is "Partnering for Change"?
The term "Partnering for Change" was used initially to reflect our partnerships with decision-makers, policy makers, parents and other stakeholders; however, it soon began to be used as the title for the service delivery model itself. We now call this model P4C (rather than P for C) and have captured the main concepts as 4 C's. Partnering for Change is a model of service delivery that focuses on Partnering to build Capacity through Collaboration and Coaching in Context (P4C).
In Partnering for Change, healthcare professionals such as occupational therapists deliver services by working collaboratively with educators, in the context of the classroom. Instead of focusing on individual children, the school becomes the "client", and the focus is on building capacity to understand and manage children with a variety of developmental motor challenges.
Sharing the Results of the Study: The Role of the Research Team
Two peer-reviewed publications that summarize this work have been accepted for publication and a third is in progress.
1. Partnering for Change: The Model
The first paper outlines the evidence basis for the model, introduces the essential elements of this type of service delivery and shows a pictorial version of the model (please see Figure 1). The rationale for providing service to children with DCD in school settings is clearly outlined and the activities of the occupational therapists (relationship building, knowledge translation) as well as the way in which the activities that support universal design for learning, differentiated instruction and accommodation are grounded within the literature.
Missiuna, C., Pollock, N., Levac, D., Campbell, W., Sahagian Whalen, S., Bennett, S., Hecimovich, C., Cairney, J., & Russell, D. (in press). Partnering for Change: An innovative school-based occupational therapy service delivery model for children. Canadian Journal of Occupational Therapy.
2. Partnering for Change: The Experience
The second paper describes the experiences of the occupational therapists who participated.
Campbell, W., Missiuna, C., Rivard, L., & Pollock, N. (in press). "Support for everyone": Experiences of occupational therapists delivering a new model of school-based service. Canadian Journal of Occupational Therapy.
3. Partnering for Change: The Evidence
The final paper outlines the actual results of the project, framed within the UK Medical Research Council Framework for Development of a Complex Intervention (MRC, 2008). It contains recommendations for the implementation and evaluation of P4C on a larger scale.
Missiuna, C., Pollock, N., Campbell, W., Bennett, S., Hecimovich, C., Gaines, R., DeCola, C., Cairney, J., Russell, D., Molinaro, L. (in progress). Use of the Medical Research Council Framework to develop a complex intervention in pediatric occupational therapy: A feasibility study.
Other Methods of Disseminating the Results
In addition to these publications, a book chapter is underway and a keynote address given at an international conference for children with DCD focused on this model. Peer-reviewed presentations have been given in 2011 to national and provincial audiences, including presentations at the Canadian Association of Occupational Therapists' conference, the Canadian Association of Speech Language Pathologists and Audiologists' conference, the Ontario Association of Children's Rehabilitation Services (OACRS) conference and at the Ontario Council for Exceptional Children conference.
An on-line parent workshop on DCD has been developed and is currently being evaluated by parents. On-line workshops for teachers, physicians and physiotherapists (in English and French) are in progress and will become available through the CanChild website once complete.
Moving Forward: Next Steps in Research Not Yet Funded
Our research team efforts have been geared toward ensuring that we move research forward in the area of health service delivery for children with disabilities in school settings. We submitted a grant to CIHR to do an economic evaluation of P4C in comparison with typical service delivery and to more explicitly measure the impact of P4C on child outcomes. Our decision-maker partner, Cathy Hecimovich, committed to fund the OT services, St. Elizabeth Health Care offered to provide the OTs and cover their training, and we applied to CIHR for the maximum amount to evaluate these models. Two school boards indicated their willingness to participate and we had strong letters of support from MOHLTC and MEDU.
Despite the clear partnerships that were established, the grant was rejected. CIHR did not understand that School Health Support Services (SHSS) could be considered as "health services" and the model was perceived to be very Ontario-focused. We now hope to directly engage with the Ontario government through a variety of initiatives.
Partnering for Change Profiled in Tri-Ministerial SHSS Review
We were extremely pleased to see that Partnering for Change, and much related research at CanChild, made a significant impact on the SHSS Review consultants. Recommendations that seem to refer directly to the Partnering for Change research project included:
Recommendation 5: Establish alternative models of service delivery across the province to
improve access and wait times.
A leading practice (Partnering for Change) was identified and described: "For appropriate children,

incorporate SHSS visits within classrooms to promote knowledge transfer between providers and

educators (p. 54).



Recommendation 11: Assess, develop and implement mechanisms required to enhance
knowledge transfer among stakeholders in service delivery
Proposed Outcome: Build capacity within the system to not only support the needs of children but

also apply relevant strategies to other students with similar challenges (this is exactly what

Partnering for Change does).




Recommendations 11.1, 11.2, and 11.3 are all addressed in Partnering for Change.




Partnering for Change was described in detail in the review as a Research-Based Leading

Practice (p. 75).



Recommendation 13.1: Commission and communicate research to build an evidence base of
leading practices and to establish service models for key areas of interest in the SHSS program
(we believe that this is exactly what needs to be done!).
In addition to these recommendations, full day kindergarten is being implemented throughout Ontario and educators are challenged as they support children with special needs in their classrooms. During the project, Partnering for Change targeted junior and senior kindergarten, and primary grades, as the focus of the service delivery and, thus, this model is well-suited to meet this need.
Further, the Ontario 2011 Budget outlined a large commitment to early identification and prevention of mental health issues in children and youth and to building capacity among educators to support these children. This is, in fact, what the Partnering for Change model does.
In summary, the Partnering for Change project went extremely well, we involved stakeholders and developed strong partnerships. The SHSS Review highlighted P4C as a research-based leading practice. CIHR indicated that this is an Ontario-focused study and that the research should be funded by Ontario. It is not clear how the respective Ministries will move forward on the implementation of the SHSS Review.
Moving Forward: The Role of Stakeholders
Following the election, we now look to our Ministry stakeholders to move forward on the evidence generated in this project and on the recommendations of the SHSS review. Parent stakeholders may be interested in knowing that we are facilitating formation of a parent advocacy group for parents of children with DCD. If you are interested in being a part of this group or in knowing more about it, please contact Cindy DeCola (decolac@mcmaster.ca). The study team is also connecting with OTs across the country who work in a similar model. We hope that educators, administrators, health care providers and other stakeholders may also be able to bring this model forward.
Please do not hesitate to contact Cindy DeCola, Project Coordinator, at decolac@mcmaster.ca or at (905) 525-9140 ext. 26074 for further information or with any comments or questions.
Thank you again for contributing your time to this exciting initiative. We hope to continue in partnership as we move forward with this project!
Introduction
Greetings from the 'Partnering for Change' Research Team at CanChild, McMaster University!
A lot has happened since our last communication to you (Symposium #3 Stakeholder Update). In this newsletter, you will find a brief description of "Partnering for Change" that you might wish to share with colleagues in your sector, as well as an update on the project.
Brief Summary of the Partnering for Change Model
Partnering for Change is an innovative program of service delivery that is evidence-based and familycentred.

Developed in collaboration with stakeholders from many different sectors, Partnering for

Change (P4C) emphasizes the partnership of the therapist with teachers and parents to change the

daily environment and the activities the child with coordination difficulties needs to be able to do.




This Partnership focuses on Capacity Building Through Collaboration and Coaching in Context

(the 4 Cs). In this model, the school becomes the "client", rather than the individual student. The

occupational therapist (OT) works one day per week in each school, in the classroom context, acting

as a "coach" to the classroom teacher to identify children with coordination difficulties early and to trial

and demonstrate strategies that support children"s participation.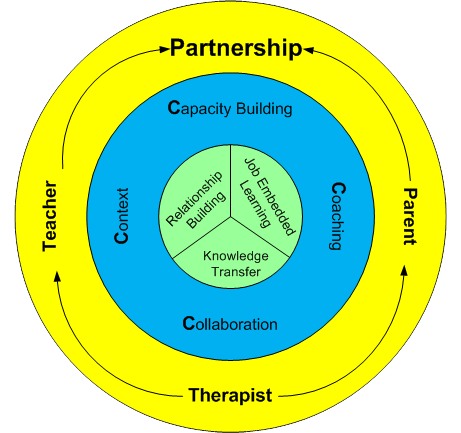 In contrast with other models, P4C OTs do not

administer normative assessments nor focus on

remediation; instead, they use their skills to observe

and work with students. This model uses job-

embedded learning and coaching to provide

teachers with opportunities to absorb, integrate and

apply knowledge in their own classrooms. Once

discovered, successful strategies are discussed by

the OT with teachers and parents who are

supported in understanding how these might be

applied at home.




Presentations for school staff and parent workshops

and meetings are also provided so teachers and

parents can manage children"s health issues over

time and share information with future teachers.




When teachers and parents become more

knowledgeable, student"s daily frustrations are identified sooner and accommodations can be provided which prevent secondary deterioration in academic performance, behaviour, physical and emotional health. The ultimate objective of this type of service delivery is to improve children"s ability to participate successfully in school and in home environments.




In this research project, we have focused primarily on young children with Developmental Coordination Disorder (DCD), which is a very common, chronic health condition that affects one child in every classroom (5-6%) yet is poorly recognized. P4C builds the capacity of teachers and parents to support children with DCD through improved understanding, differentiated instruction and accommodation.
Demonstration Phase Completed
We are very pleased to notify you that we completed the Demonstration Phase and the therapists

finished in the schools in June 2010. Our research analysis is currently underway.




8 OTs provided this service in 11 schools in Halton during the 2009-2010 academic year. Between

October 5, 2009 - June 21, 2010, P4C OTs worked nearly 300 days in schools.




2637 children were served at a whole class level; 428 children worked closely with OTs in small

groups; 236 children received individual strategies and suggestions from OTs; 209 teachers worked

closely with the OTs and numerous "lunch "n learns" were requested and provided to primary

divisions or to all school staff.




More than 400 parents attended Parent Information Nights and Parent Workshops about DCD.

A workshop on the P4C study and DCD was given to the Psychology staff of one of the school

boards.




A two hour Printing Readiness Workshop was provided to Learning Resource Teachers.




The P4C Study Team contributed to the School Health Support Services (SHSS) review which is

being lead by a collaborative team of the Ministries of Health and Long-Term Care, Education and

Child and Youth Services.

Educators completed 2 surveys (one at the beginning of the school year and one at the end) and

some teachers provided comments.




P4C OTs completed pre- and post-questionnaires exploring their skills, knowledge and beliefs

surrounding this new delivery model. Significant change was noted in some areas, suggesting that

some of the skills and knowledge used in this model are different than in the typical service model.




P4C OTs completed evaluations and feedback about the online educational modules; academic

institutions have expressed interest in these for continuing education of OTs in school-based practice.




8 key informant interviews were conducted with P4C OTs; themes suggest an evolution over the first

year in the school; OTs perceive this model to be more impactful and this increased job satisfaction.




Throughout the fall, we will be surveying and interviewing study parents about their use of the

educational resources and knowledge that was provided about their child.



Quotes from Participants
Feedback from teachers, administrators, therapists and families about P4C has been extremely positive.
"This program has been excellent and we have been extremely fortunate to have been able to participate in the study. It would be fabulous if speech and language pathologists could follow the same model as well. We have had SO many MORE students impacted than if we referred individual students, and a huge benefit is that we have built teacher capacity in terms of awareness and strategies for students with OT needs. The opportunity to collaborate has been invaluable" -Classroom Teacher
"Lots of good learning and lots of very practical and useable information…[I] appreciated the [red flag] checklist as it gives me language to address things that I am concerned about but may not know how to pinpoint my concerns" -Learning Resource Teacher
"From an administrative point of view, the OT has been outstanding reaching our students in need with regular student assistance and monitoring, supporting our teachers in the classroom and parents at home ...improvement has been achieved and noted" -Elementary School Principal
"We need to invest in [children] early on so that they can reach their potential. If this could be the standard model that"s used, things could be so different. I think being able to intervene so much earlier is definitely going to change the way they"re perceived down the road, before the problems are so insurmountable that colleagues and professionals are sitting around a table trying to discuss and problem-solve around how to fix them rather than having that information all along and trying to move them more successfully through the system" -P4C Occupational Therapist
"As a host school board of the P4C project, [we are] realizing important benefits for students, school staff and parents. [The] OTs work alongside teachers providing "just-in-time" feedback to help differentiate instruction for children with motor coordination challenges. The coaching model aligns well with the school board"s Expected Practices. By providing powerful job-embedded professional learning to teachers, we are increasingly able to make learning more accessible and inclusive for students with motor coordination challenges" -School Board Coordinator of Research and Accountability
"I wanted … to let you know how much my son has benefited from the support of the OT which he is receiving in his class through the research study. I have also appreciated the information that has been shared with us such that we can continue to reinforce the interventions at home. [Our son] has a variety of coordination delays and at an early age was exceptionally self-aware of these differences. At the beginning of JK he was already exhibiting avoidance behaviours such as scribbling over the whole page to hide the fact that he could not write his name. I am pleased to report that he has made great steps forward and is now eager to write notes to his family and friends" -Study Parent
"I do believe the early and ongoing intervention of the OT, combined with the support of the teacher have helped develop his skills, and him increase his confidence so that he is now more eager and able to participate in the classroom work. I am also hopeful that coping and accommodation skills he is learning at this young age will prevent him from developing longer term behaviour and esteem issues that could ultimately affect his academic performance" -Study Parent
Where do we go from here?
During our "give/get" activity in our last symposium, we focused on what you, the stakeholders, wanted and expected from us, the research team, and what you were prepared to contribute. In addition to completing the research study, here are some of the things that we have been working on:
We met with and provided evidence-based information and reports to the consultants conducting the Tri-Ministerial Review of School Health Support Services. We were very impressed with the process that they followed in conducting this review and eagerly await the report.




A nomination was submitted in June 2010 for P4C, in partnership with Community Rehab for the prestigious Canadian Rotman Award, given each year for innovation in pediatric community care.




Although the selection committee agreed that our program was innovative, we did not receive the award. Ironically, we were unsuccessful due to a concern on the part of the committee about the sustainability of funding!




We submitted a research grant to the Canadian Institutes of Health Research to further develop the educational materials, modules and resources that were created during this project for educators, health professionals, policymakers and families.




Members of the P4C Study Team presented at the 2010 OACCAC Annual Knowledge and Inspiration Conference in Toronto in June 2010 and received extremely positive feedback.




A meeting was held with a manager to see whether P4C might be considered as an Integrated Client Care Project.




Our research team gave a presentation to the Halton District School Board Superintendents in Burlington, Ontario, in August 2010




Nancy Pollock led the special session on Promising Practices in School-Based OT at the Ontario Society of Occupational Therapists" Annual Conference in September, 2010 which was attended by OTs from all over the province. A great deal of interest was expressed in P4C.




Our team is giving an invited presentation at Thames Valley Children Centre in London, Ontario in October 2010 to OTs from the Western Ontario region




We are partnering with Central West CCAC to put in a Partnerships in Health System Improvement grant to CIHR November 1, 2010 in order to conduct a more rigorous evaluation of P4C in a new region. We will be asking Ministries and OACCAC to provide letters of support.




Cathy Hecimovich and Cheryl Missiuna have been invited to return to present research rounds at the event hosted by the Health System Policy and Research Branch.




Cheryl Missiuna is an invited speaker at the DCD IX International Conference in Switzerland in 2011 to talk about Partnering for Change as an innovative school delivery model




We have submitted papers to the 2011 Canadian Association of Occupational Therapists" Annual Conference and the 2011 Canadian Association of Speech Language Pathologists Annual Conference.




We are writing 3 papers for submission to peer-reviewed journals.



Behind the Scenes
Cindy DeCola, our Project Coordinator, left on maternity leave, and Elizabeth Molinaro replaced her. Jenny Siemon, our Research Assistant, was accepted into graduate school in Occupational Therapy and Caroline Phelan has replaced her. We are in the process of developing materials and summaries of the P4C project that will be targeted to a variety of audiences and they will be posted on the CanChild website as soon as possible.
Stakeholder Contribution
We hope that all of the stakeholders are working and advocating to move this exciting model forward in whatever way they can within their own sectors and spheres of influence. This is a "Knowledge to Action" grant so we need to hear from you about any activities/meetings/briefs/presentations that you are working on and we would be happy to provide you with any support that we can (information, statistics, descriptions). Please contact Elizabeth Molinaro, Project Coordinator, at molinae@mcmaster.ca or at (905) 525-9140 ext. 26074 for further information or with any questions.
Thank you for contributing your time to this exciting
The Partnering for Change Demonstration Project is well underway! The Pilot Study conducted in the 2008-09 school year was extremely successful and we have many updates to share with you. As always, we encourage you to circulate this newsletter to anyone who may be interested in the study.
Pilot Study Completed
Thirty five students and families participated formally in the Pilot Project. In addition, the Occupational Therapists (OTs) reached hundreds of students in each school through provision of full class lessons and education to many teachers. Nearly all of the primary division teachers in each school requested support and participation of the OT in their classrooms. Most teachers also engaged in regular "lunch 'n learn" educational sessions offered by the OTs on topics that were requested by the teachers.
In May of 2009 we held focus groups at the two pilot schools, Hawthorne Village and Oakwood Public School. Over 25 teachers, SERTs, LRTs and administrators participated voluntarily in four focus groups and provided us with valuable feedback. Here are a few representative quotes:
"Some kids just need a few little things – they would never be entitled to that support because they're not bad enough - before they get really bad further on in the grades, you can do a few little things to really, really help them along"
"Some things don't come in a hurry, and that's why this model is so much better because it's teaching us.....I've had lots of kids that see OTs but I've never had an OT in my classroom.....they just do their thing and leave a piece of paper and that's all that really happens, so this [model] is way better."
"This whole model has helped teachers become more involved in the process of helping the kids.....with [OT] coming in and working, we got more knowledge about what she was doing with the kids. We were able to reinforce things by having her in the classroom teaching us, giving us the resources and knowledge we needed to address the concerns."
"The three kids in my class that the OT has worked with this year, - two of them I've had for three years, because I taught them in kindergarten, and you only see little progressions when they were in JK and SK.....but once the OT worked with them.....they're confident, they'll actually go to their desk and sit down and try whereas before the one would go curl up in a ball on the carpet and refuse to do anything, he would try to write, then crumple it up in a ball and throw it in the garbage. Now he can write and now he can read his writing and I can read his writing and his parents can and he's just ecstatic about the whole thing!"
"I think we're comfortable now talking to parents about it [coordination difficulties], whereas before the piece of paper that went home in their agendas, you never knew if parents actually read it.....especially in our community, we have parents who might not read it or pay attention to it, so now we can take the knowledge we have learned and speak directly with the parents."
During the Pilot Phase we identified aspects of this model of service delivery that involved new learning or novel experiences for our pilot OTs. We then began to gather resources at the two pilot schools that could be used for training OTs in the Demonstration Project. For example, we video taped Sandra teaching a scissor session to a Kindergarten class and a cursive session to a Grade 3 class. A kindergarten teacher graciously offered to videotape her taking us on a tour of her classroom, explaining the rationale behind many of the activity centres and the classroom layout. This teacher also asked if she could be videotaped expressing her strong support for this model and she encouraged future teachers to give it a try!
In the summer, Community Rehab identified seven OTs who were interested in learning about and implementing this new model in a number of schools within our partner schoolboard, the Halton District School Board (HDSB). OTs who volunteered to participate in the study shadowed one of our pilot OTs, Sandra Sahagian-Whalen, at Hawthorne Village Public School in order to see what a typical day in a school might be like. After spending a day at the school, one of the OTs sent the following email:
"I really enjoyed the orientation day! Although, it was hectic and really busy, I left feeling like we had accomplished so much in that one day alone. We had to think on our feet, and Sandi's schedule for the day was thrown out the window from the first bell, but it was the most rewarding day I have had at a school in a long time! I am so excited to be involved with this project and I see so much potential in this type of model. This is what we SHOULD be doing as OTs in the schools.....I only hope the results prove to everyone that a change in services is required, and the best way to do that is to include the OT right in the heart of a school so consultative services can be effective....."
Demonstration Project Planning
As we wrapped up the Pilot Study and began to plan the Demonstration Project, we encountered a major funding challenge. As the stakeholders will recall, this is a Partnership Grant which means that the Pilot Project and the research components of the Demonstration Project were funded by peer-reviewed research grants. The health services delivered by OTs in the Demonstration Project, however, were to be funded by one of our partners, the MississaugaHalton CCAC. Given the current fiscal situation and changes to the way school health caseloads were managed at the MH-CCAC, our partner was unable to commit the full amount of funds, as anticipated. Fortunately, the superintendents of HDSB and the Coordinator of Research and Accountability at the school board have been very supportive and were able to commit some funds to ensure that the project went ahead. Other partners, including Community Rehab, also contributed "in kind" or actual funds so we have been able to proceed nearly as planned. Thank you to all for your commitment to seeing this project through and evaluating the applicability of this model of service delivery in multiple schools.
The research team submitted a proposal for the 2009-2010 Demonstration Project and received ethics approval from McMaster University and the HDSB for this phase of the study. The research team also developed measures of teacher knowledge about children with motor challenges. With the help of Heather Gataveckas (Coordinator of Research and Accountability, HDSB), an on-line questionnaire was distributed to all teachers in the HDSB. A more detailed teacher knowledge questionnaire was sent out to teachers in the schools participating in the project in 2009-2010. A follow up questionnaire will be sent to all teachers in the participating schools in Fall 2010.
In September, we held a half day training session for the Demonstration Project OTs to orient them to the new model and the research project. An on-line collaborative consultation training course was developed by Danielle Levac and the research team, who worked closely with the pilot OTs to determine content and focus. The training course involves 8 modules that the OTs are now working through during the 2009-2010 school year. These modules include readings, video clips, case scenarios, activities/tasks and an opportunity to have on-line group discussions that are facilitated. Once we receive feedback from the Demonstration OTs and revise the modules, they will potentially be available in the future to orient other OTs to this model of service delivery.
Demonstration Project Begins
In mid-October, 7 OTs began to implement this model in 8 schools across 4 regions (Acton, Georgetown, Milton and Oakville) of the board. Two more schools will be added in the next month. Peer support meetings are held monthly with Nancy Pollock, Sandra and all OTs involved in the Demonstration Project in order to share ideas, identify successes and challenges and to work together to find solutions to any barriers that emerge. Sandra is available to mentor the OTs and makes regular on-site visits to the schools to assist OTs with questions about the model. She, Nancy and the research team are also available by phone and email.
Happy New Year! The Partnering for Change Pilot Project that began in 2008 is now well underway. This is the first in a series of newsletters that will keep you and those whom you represent updated on the progress of this exciting study.
Following the very successful Symposium on July 2nd 2008, the team proceeded with all of the tasks needed for the pilot study to begin in the 2008-09 school year. A meeting was held with representatives from the Halton District School Board (HDSB) who confirmed that they were eager to participate in the pilot stage of this project. In collaboration with the board, we developed procedures for the pilot study and subsequently received ethical approval from both the McMaster Research Ethics Board and the HDSB Research Advisory Board.
The school board identified two schools with quite different populations of children. Both have embraced the project and are enthusiastic about the early results!
Hawthorne Village Public School in Milton. This very large and quite new school is experiencing the rapid growth typical of schools in Mississauga-Halton. With over 1,150 students and 16 kindergarten classrooms, it is ideal for a pilot study focusing on early identification of children with developmental coordination disorder and enhancing teacher capacity to manage these children!
Oakwood Elementary School in Oakville. Oakwood is a smaller, neighbourhood school that serves primarily children and families who have high social needs, some of whom may be transient. Many of the children have not had early experiences that would prepare them for school so they are struggling to develop the motor skills necessary for participation in academic settings. This school provides us with an opportunity to enhance teacher capacity to help children develop necessary pre-requisite motor skills and to distinguish, among children who are delayed, those children who have an ongoing health condition such as DCD.
We are fortunate to have been able to hire two occupational therapists (OTs), each with over 25 years of experience working with children and youth in the school system, to determine what might be needed in this novel role. Due to the large size of the school, Sandra Sahagian-Whalen has been providing OT services two days per week at Hawthorne Village since the beginning of October. Nancy Pollock began one day per week at Oakwood in early November. In each school, presentations were made first to administration and special education staff, then to all teachers and also to the respective Parent Councils. A letter to all parents let them know about the availability of an OT in their school. Children and families who are participating in the actual study are invited to do so by their teachers. Both Nancy and Sandi work with teachers right in the classroom and provide additional education on topics of interest to the teachers.
Our team has been collecting existing educational resources (e.g., books, webcasts, websites, DVDs) related to motor development and the teaching of skills (such as printing, scissors, putting on outdoor clothing) and have been trialing their use with teachers. We have also developed some new materials, based upon needs identified by teachers in each of the pilot schools. Professional videoclips depicting children with DCD and typically-developing children in classroom settings were produced and are now being used in the pilot schools.
As many of you will have seen in late August, Daniel Radcliffe (Harry Potter) brought increased attention to the frustrations experienced by children with DCD each day. Our team was pleased to be able to share some of the research evidence in reports on CTV and the Globe and Mail. We have attached a copy of CanChild Today to this newsletter as it highlights a number of studies that are currently underway.