Join the CanChild Team
Take a look at our newest career and volunteer postings below!
CanChild is a research centre at McMaster University dedicated to generating knowledge and transforming lives of children and youth with developmental conditions and their families. The hub of an academic network of international scientists, CanChild is embedded within the School of Rehabilitation Science and the Department of Pediatrics at McMaster.

We are looking for a Master's student in Rehabilitation Science to help conduct an exciting new Transition Project!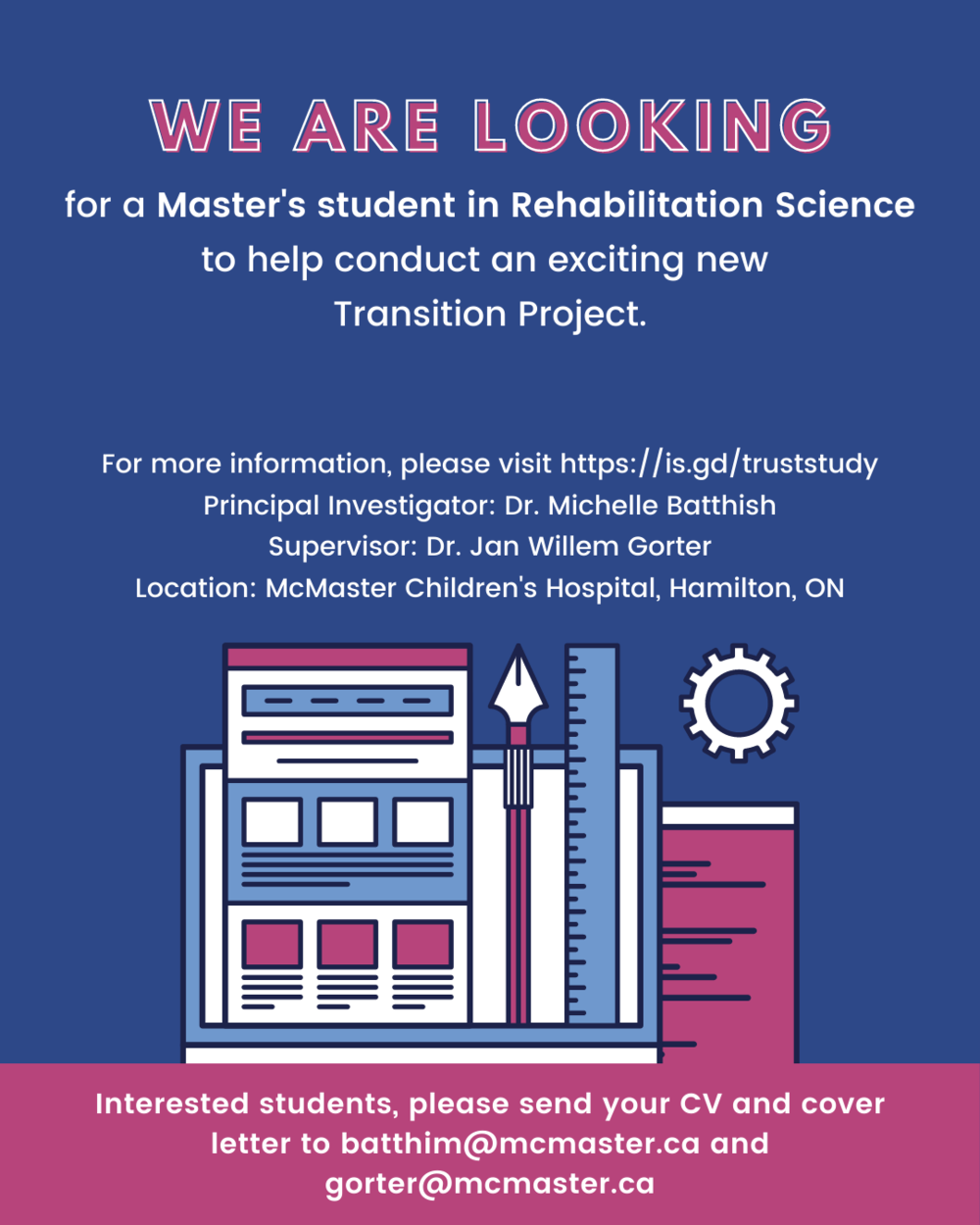 Principal Investigator: Dr. Michelle Batthish
Supervisor: Dr. Jan Willem Gorter
Location: McMaster Children's Hospital, Hamilton, ON

Interested students, please send your CV and cover letter to batthim@mcmaster.ca and gorter@mcmaster.ca

Brief Project Description:
The transition from pediatric to adult care is a critical time in the journey of an adolescent with a rheumatologic disease like arthritis or lupus. Helping adolescents prepare for transition requires an integrated approach from healthcare providers and parents to teach and encourage them to manage their own care. Parents play a key role in helping/supporting their child in becoming independent. Until now, research to improve adolescents' transition readiness has focused on them, with little attention paid to parents. We have received funding to conduct a study which will provide parents of adolescents with arthritis and lupus with a Parent Toolkit. This toolkit will include information about the transition process, differences between pediatric and adult care, a roadmap describing important stages of becoming independent, and Tip Sheets describing ways parents can help their child improve their ability to manage their disease. We anticipate that using the Toolkit to educate/support parents will, in turn, help adolescents become more independent and improve their ability to manage their care. Our results will inform us of the impact of the Parent Toolkit and help us expand its use to parents of adolescents with other chronic diseases.
Who are we looking for?
We are looking for a Master's student to help conduct this project.
The successful candidate will:
work well independently, be detail-oriented, organized, conscientious and have strong verbal and written communication skills;

be involved in consenting study participants in a clinical setting, administering and collecting questionnaires, performing data input and cleaning, supporting undergraduate students working with the REDCap database, performing data analyses and reporting of results;

be responsible for organizing team meetings, setting the agenda and recording minutes.
Applicants must be based in Hamilton, ON as the study runs at McMaster Children's Hospital.
How to apply?
Please send your CV and cover letter to Dr. Michelle Batthish (batthim@mcmaster.ca) and Dr. Jan Willem Gorter (gorter@mcmaster.ca).
Stay tuned to our newsletter and social media for future volunteer opportunities.