ICF Resources
What is the ICF Framework?
A universal model – for all people, not just people with disabilities
A holistic model - focuses on the whole person + their environment
A strengths-based model – highlights what people can do!
An interactive model – shows the interaction between a person + their environment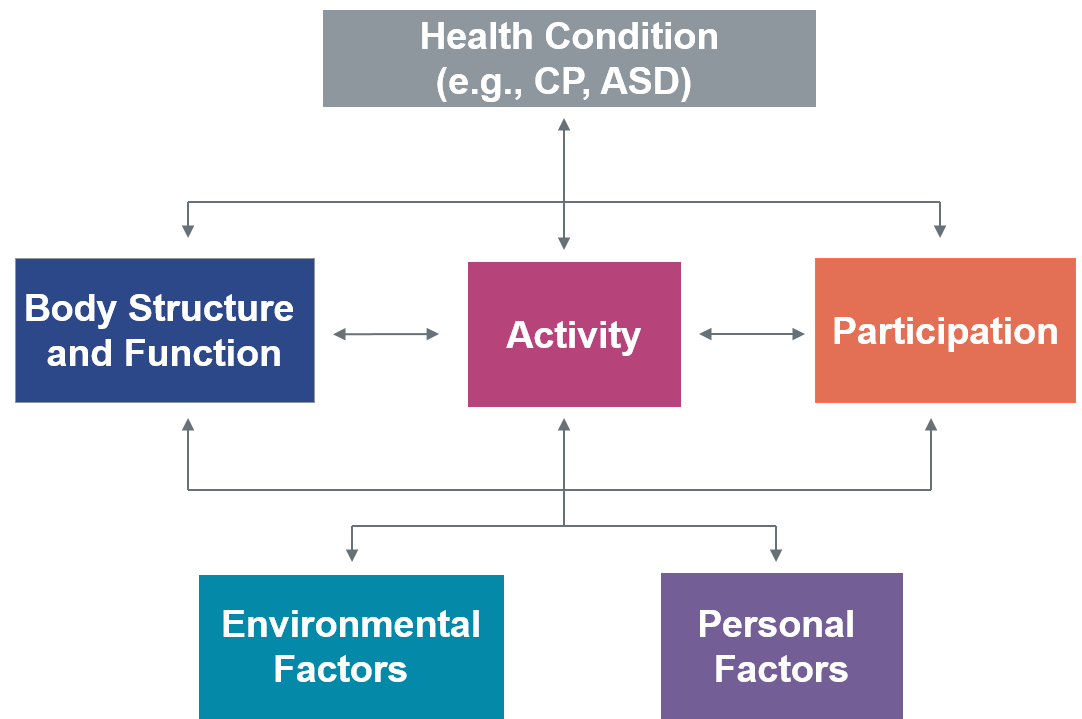 Body Functions: The physiological functions of body systems (including psychological functions)
Body Structures: Anatomical parts of the body such as organs, limbs, and their components

Activities: The execution of a task or action by an individual.


Participation: Involvement in a life situation


Environmental factors: The physical, social and attitudinal environment in which people live and conduct their lives; these are either barriers to or facilitators of the person's functioning

Personal Factors: Internal personal factors which can include gender, age, education, profession, past and current experience, character and other factors that influence how disability is experienced by the individual
It is currently the international standard for describing health and disability.
It provides a common language and can be used to guide clinical practice, social policy, education, and research.
It changes how we think about and approach disability.
What does it mean for families and service providers?
The ICF framework can be used at home, at school, and in health care.
It offers a communication tool – to promote conversation between the family, child, and service providers.
And an organizational tool – to set goals, highlight strengths, and discuss needs.
The ICF Framework and the F-words
The F-words build upon the World Health Organizations (WHO's) International Classification of Functioning, Disability and Health (ICF) framework. The ICF framework shows how body structure and function, activity, participation, environmental factors and personal factors are interrelated and equally influence our health and functioning. This holistic approach encourages us to focus on factors that are important to all children's development - their participation, activities, and environment.