My COVID Disability Q

My COVID Disability Q is an online space for Canadian children and youth with disabilities, as well as family members speaking on their behalf, to ask questions that relate to both their disabilities and the COVID-19 outbreak.

Submit your question using our online form below. Your question must be research focused and related to both your disability and COVID-19.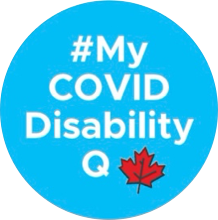 Our moderators at the CHILD-BRIGHT Network, CanChild, the Kids Brain Health Network will then select and post answers to one (1) question per day on Twitter at @MyCOVIDQuestion using the #MyCOVIDDisabilityQ hashtag. We will tag the account you identify too as well as other experts in our network who may also jump into the conversation!
**Nous acceptons les questions en français et y répondrons sur notre page Twitter en français, dans la mesure du possible**

You can view our Twitter campaign page below, search for #MyCOVIDDisabilityQ on Twitter or read the Q&A section.
Health Canada has approved a COVID-19 vaccine for children aged 5 to 11.
COVID-19 vaccines for children
Development and approval of the COVID-19 vaccines