FER Course
The Family Engagement in Research (FER) Course is a fully integrated 10-week (~30 hours) online course offered through McMaster University Continuing Education. The FER Course covers principles and frameworks of family engagement in research alongside discussions of the practicalities and challenges of research partnership. The content and course design strives to create a safe space to trial and express ideas and practical working methods to help learners develop competency and confidence in both the theory and practice of family engagement in research. A unique component of the FER Course is that patient and family partners and researchers are placed in groups and required to co-create a Knowledge Translation (KT) tool highlighting best practices in FER. These KT tools include infographics, blogs, videos, presentations, podcasts etc. By the end of the course, FER Course graduates are:
knowledgeable about family engagement in research
capable and confident to partner on research projects
Upon successful completion of the course, learners receive a McMaster University certified micro-credential.

To learn more about the FER Course view the brochure or contact us by email (fer@mcmaster.ca).
Applications for the FER Course are now open!
Apply before June 19th (12:00pm ET) to be considered for the Fall 2023 or Winter 2024 cohort. For questions about the application process, please contact fer@mcmaster.ca. You can follow the FER Course Twitter page (@fercourse) for updates and notices related to the course.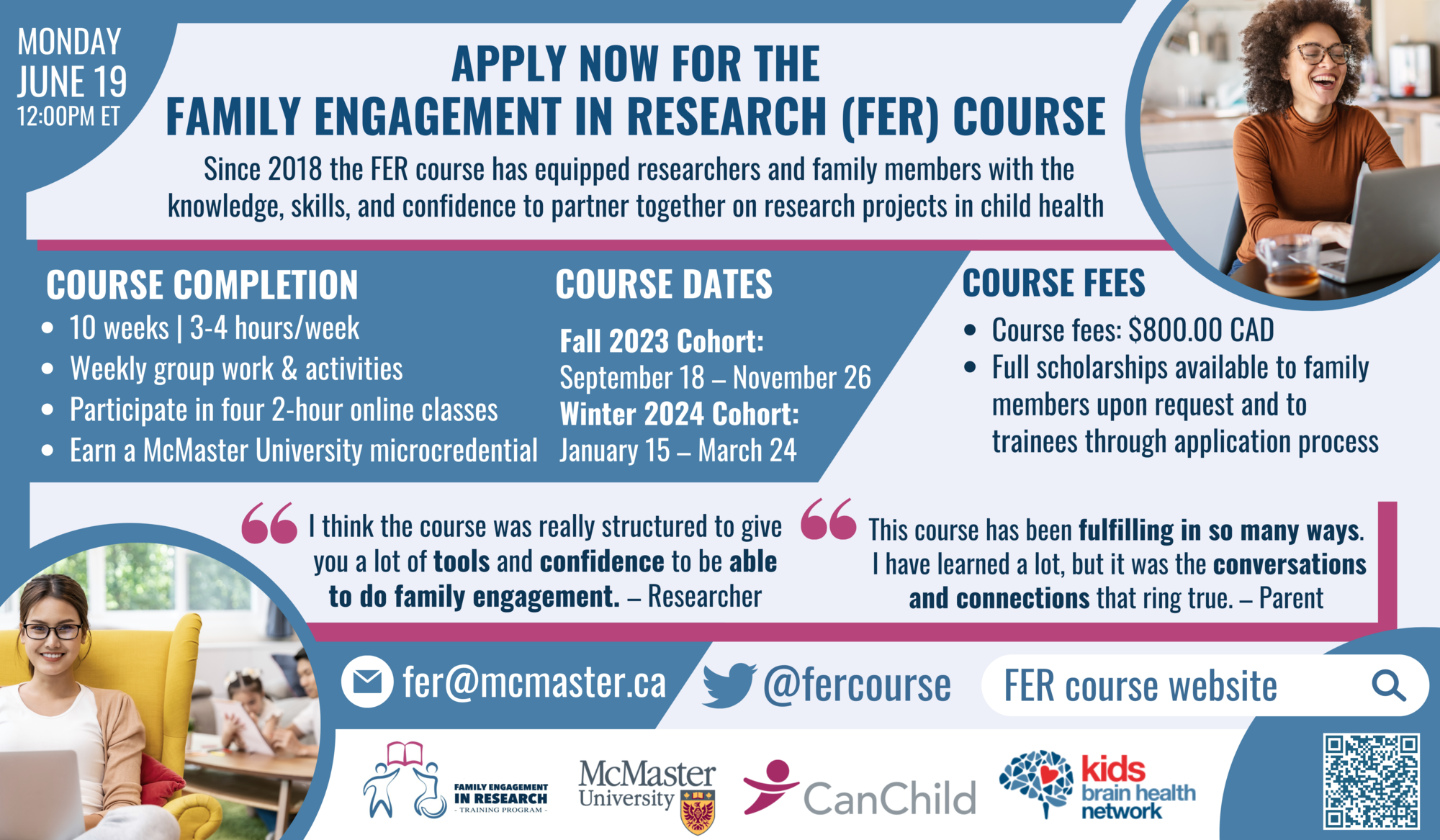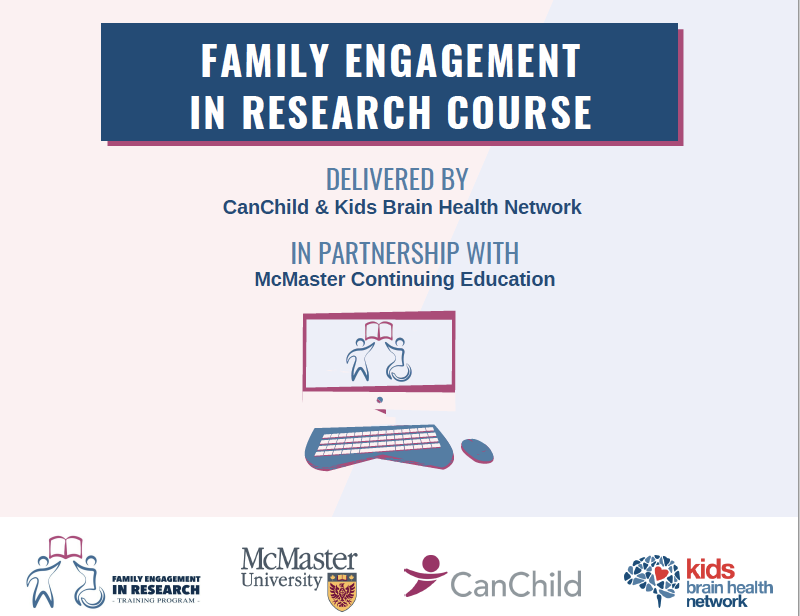 All you need to know about the Family Engagement in Research Course is here! Feel free to download a copy of the brochure and share it with your networks, friends, and families.


Course Completion:
10 weeks | 3-4 hours/week
Weekly group work & activities
Participate in four 2-hour online classes
Earn a McMaster University microcredential
Course Dates:
Fall 2023 Cohort: September 18 – November 26
Winter 2024 Cohort: January 15 – March 24
Course Fees:
Course fees are $800.00, with full scholarships available to family members upon request and to researchers through an application process. Note that scholarships are limited, and priority is given to family members and trainees.

"This course has been fulfilling in so many ways. I have learned a lot, but it was the conversations and connections that ring true" – Family Member
​​"The course was exceptionally interesting and helpful. I really liked working with my small team throughout the course. I think the readings and resources were also helpful, and I look forward to sharing them with colleagues on my research teams." – Researcher
"I think it definitely gave me more confidence in how to engage families… Or how to be engaged as a family because it also identified and highlighted some ways to do it…. I learned some actual steps in what it takes to do that, so knowing how to do it gives you the confidence on how to ask for it."– Family Member
"I think the course was really structured to give you a lot of tools and confidence to be able to do family engagement."– Researcher
"I highly recommend this course! With this course I was able to learn a lot about the research phases and how I could be engaged in research as a caregiver. The instructors and participants were fully engaged, the discussions were always respectful and the readings were right on target. An enlightening experience about Family Engagement in Research!" – Family Member
"Oh, my overall experience I enjoyed it, I loved it. It was really a fulfilling opportunity to be able to focus in on research that I am passionate about but to expand it to a different perspective that I can still relate to, because my research is mainly qualitative." – Researcher