F-words Publications
Since 2011, we have given over 100 presentations on the F-words around the world. Many of the presentations have been invited speaker talks/workshops. Many of the presentations have also been co-presented with youth, parents, and clinicians (identified with a red tag). Please take a moment to explore how the F-words have taken flight around the world through this interactive map. By clicking on the tags you will find information on each presentation including: the presenter(s), type of presentation, title of presentation, date, and location. If you are interested in learning more about the F-words presentations/workshops, please contact Andrea Cross at crossac@mcmaster.ca.
Conference Presentation Posters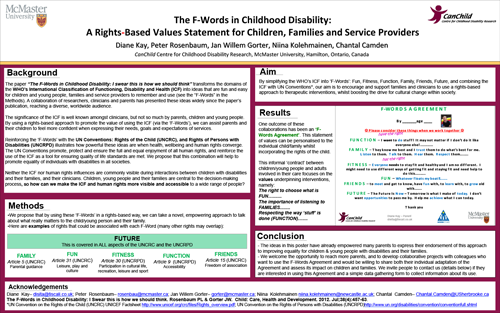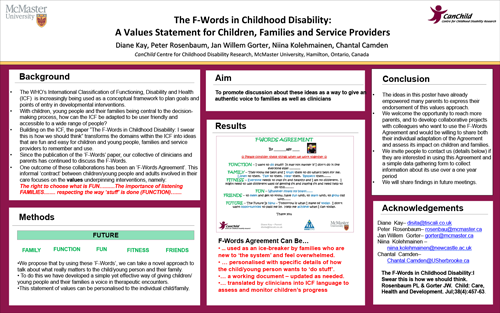 What are other people saying about the F-words?
Online News Articles:
Dr. Jonathan Weiss & Paula Tablon Modica wrote an article on the F-words titled "Supporting the Mental Health of Autistic Individuals during COVID-19 Times Part 3" in the Autism Mental Health blog. (May 5 2020)
TVO.org explains the F-words in an article by Daniel Kitts titled "What are the 'F-words' of childhood disability?" (Feb 18, 2020)
The Children's Treatment Network highlights the F-words in the News and Stories section of their website titled "The 6 F-words for Childhood Disability Framework" (Nov 18 2019)
FASD Ontario highlights the F-words in a post on their website titled "F-words in Childhood Neurodisability" in the Support/Service section on their website. (July 3 2019)
Our Sacred Breath provides a summary of "The 'F-words' in Childhood Disability: I Swear this is How we Should Think!" by P. Rosenbaum and J. W. Gorter. (June 30 2019)
SeekFreaks utilizes the F-words as a resource in a 2019 update of recognizing ICF words. (June 19 2019)
McMaster University wrote an article on the F-words titled "Helping children with disabilities make the transition to adulthood" written by Tina Depko (Feb 5 2019)
The Cerebral Palsy Society promotes the use of the F-words in a post they shared on their website titled "F-words in Childhood Disability". (Mar 27 2018)
The Sunday Times highlights the F-words in an article by Kumudini Hettiarachchi, titled "Changing lives with the all-important F-words" (January 29 2017)
Dr. Fiona Jones (Occupational Therapist), Australia wrote an article on the F-words, titled "The six 'F's' of therapy planning for your child" on the Source Kids website (August 15 2016)
Your Therapy Source highlights the F-words article on their blog titled "F-words in Childhood Disability" (December 23 2015)
Renee Ellis, Occupational Therapist provides an article review on the "F-words in Childhood Disability" in the ASD Connector, Child & Parent Resource Institute (September 2015, pg. 7)
Hamilton Spectator article on the F-words written by Rachael Williams, titled "CanChild focuses on the F-words" (June 28 2014)
CP Daily Living highlights the F-words in the Patient-Professional Communication section of their website, titled "Creating balance using the "Five 'F's in Childhood Disability" (January 15 2014)
Rehab & Community Care Medicine highlights the work of CanChild and Dr. Peter Rosenbaum in an article titled "Childhood Disability: What's new in the 21st Century?" (Fall, 2013, pg. 37)
McMaster Children's Hospital highlights The F-words in Childhood Disability in the CDRP Communicator (Fall 2013)
Diane Kay (F-words Parent Researcher) writes about the F-words in the Holland Bloorview Bloom Magazine, titled "Has your doctor heard about these F-words?" (March 4 2013)
Globe and Mail article written by Tralee Pearce titled "Mastering motor skills with a little mischief." Includes an interview with Dr. Peter Rosenbaum and an introduction to the F-words (0ctober 25 2012)
United Cerebral Palsy highlights the F-words in an article titled "Priorities in Cerebral Palsy Research" (June 2012)


Online Blog Posts:
Mallory Ryan, Director of Quality & Improvement for Dance Ability Movement and Chelsea Hand highlights the F-words in a "Frequently Asked Questions" post on their website. (March 17 2020)
Donna Thomson (Parent & Disability Activist), Ontario, Canada wrote a blog post on her blog The Caregivers' Living Room, which highlighted the F-words, titled "A Cool Tool For Balancing Caregiving With...LIFE" (Feb 23 2020)
Rachel Martens writes story highlighting the F-words in the Disability Stories section of the website (Dec 14 2019)
Shannon Briggs provided an article review on "The 'F-Words' in childhood disability: I swear this is how we should think!" in her blog the SLP Corner. (September 30 2019)
Patient Empowerment Network highlights the F-words in a blog post titled "F-words in Rare Disease" written by Rachel Martens. (June 17 2019)
Connie Johnson (Physical Therapist) mentions the F-words in a blog post she wrote titled "Teens with Cerebral Palsy Benefit from Treadmill Gait Training – A Case Story" (March 18 2019)
JoAnne Mosel (Child-Bright Patient-Partner) wrote about the F-words in a testimonial titled "Still Transitioning" on their blog. (Feb 19 2019)
A blog post highlighting the F-words titled "F-words in Childhood Disability" was posted on Illinois Lend website. (Dec 20, 2017)
Alison Morse wrote a blog post on Easter Seals Kids at School titled "The F-Words and Individual Education Plans" (February 7, 2019)
Ellie Barton (Physiotherapist), UK wrote a blog post on Children's Physio Blogger titled "F-Words Paper – The 'F-words' in childhood disability: I swear this is how we should think" (April 4 2017)
Alicia Manzanas García (Physiotherapist), Spain wrote a blog post on Efisio Pediatric titled "Las sexta palabra de las F-Words," translated as "The sixth word of the F-words" (February 24 2017)
Jessica Geboers (Patient & Disability Advocate), Ontario, Canada wrote a blog post titled "Six F-Words: Some New, Positive, F-Words To Keep In Mind" (November 11 2016)
Jennifer Johannesen (Author & Healthcare Advisor), Ontario, Canada wrote a blog post on her blog, which highlighted the F-words, titled "What could be better than patient-centred care? Here are a few examples" (October 24 2016)
Donna Thomson (Parent & Disability Activist), Ontario, Canada wrote a blog post on her blog The Caregivers' Living Room, which highlighted the F-words, titled "The Talk Disability Parents Want With Doctors" (September 3 2016)
Julie Brocklehurst (Parent-Researcher), Newfoundland, Canada blogs on the F-words on her Tiptoeing Through webpage
"The 'F-words' in Childhood Disability" (August 31 2016)
"F-words!" (July 20 2014)
"CP in Motion" (May 21 2014)
Emily Hayles (Physiotherapist), Australia wrote a blog post on the Move and Play Paediatric Therapy website titled "F-words in Childhood Disability" (May 25 2016)
Deepa Bajracharya (Physiotherapist), Nepal wrote a blog post on Pediatric Rehabilitation Nepal webpage titled "Disability, Nepal and F-words" (May 28 2015)
Lotta Kauhanen (Physiotherapist), Finland wrote a blog post on Terveyttä Tieteestä titled "F-words in Rehabilitation - News from the International Rehabilitation Congress" (May 12 2015)
Anika William Shewitt, Ontario, Canada wrote a blog post on The Share Space – Resources for families of children with special needs titled "Future Planning: F-words in Childhood Disability" (March 27 2013)