Knowledge Translation Strategic Planning for CanChild 2013 - 2018
What do we mean by Knowledge Translation (KT)? " a dynamic and iterative process that includes synthesis, dissemination, exchange and ethically sound application of knowledge to improve the health of children with chronic health conditions and disabilities, provide more effective health services and products and strengthen the health care system" (Modified slightly from the CIHR definition1 to be specific to our target area of research)
Background
CanChild Centre for Childhood Disability Research is a research and educational centre located at McMaster University, in Hamilton, Ontario. Our innovative research is focused on child health issues. CanChild's research has resulted in numerous scientific publications and products and we strive to ensure that the results of research are used to inform policies, practices, and services. Nevertheless, there is still much to do. We need to listen and respond to the needs of children with chronic conditions and their families, communities and society.
Since its start in 1989, CanChild's active program of integrated knowledge translation (KT) involves knowledge users in all aspects of the research process.
In 2012, CanChild's Knowledge Translation committee had identified many innovative ideas for moving KT forward at CanChild but was challenged with limited resources and the need to prioritize activities to keep us at the forefront of engaging with knowledge users and bringing evidence to those who need it. The CanChild team decided to strategic plan for their knowledge translation activities using a framework proposed by Holmes et al. 1
CanChild's KT Strategic Directions
The following strategic directions will help to focus our activities. By doing so, CanChild can continue to contribute to make a difference in the lives of children and families.
Engagement
Partner
Building capacity
Funding
We engage with families and youth
We nurture partnerships access. We optimize access to knowledge.
We foster KT knowledge, skills and people.
We ensure sufficient funding to support KT activities.
KT Strategic Planning Updates
KT Strategic Planning Process
The CanChild KT strategic planning process has provided a unique opportunity to engage actively with the CanChild network and reflect on the importance of KT to meet CanChild's mandate to make a difference in the lives of children and families. It will allow us to prioritize activities with particular emphasis on engaging with families and youth; nurturing partnerships, optimizing access to knowledge; building capacity through fostering KT knowledge, skills and people and ensuring sufficient funding to support KT activities.
We recognize this is a lofty agenda but are delighted that so many members chose to take part in various aspects of this process which speaks to the importance placed on KT by CanChild members.
Overview of Activities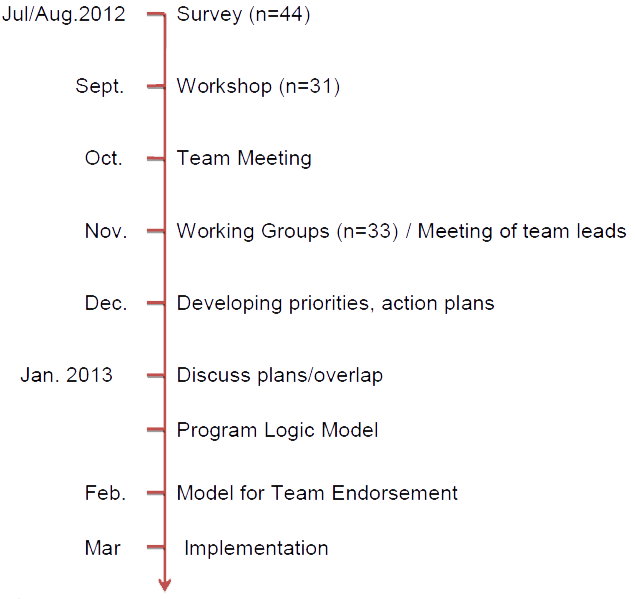 KT Strategic Planning - Program Logic Model
Implementation
We have laid out a 5 year plan and have begun the implementation of the plan which will be revisited at regular intervals (every 3 months) to ensure we are on track or to revise priorities as needed. Thank you to all who have helped and will continue to help implement the plan!