F-words Organizational Implementation



In the Region of Halton, service providers from three agencies (Community Living North Halton, Community Living Burlington, and Halton Region Children's Developmental Services) have come together to form a F-words Committee. All of these agencies provide developmental services to children (birth - 12) and their families in Halton Region using a family centered model. The purpose of the F-words Committee is to modify their current Family Plan by incorporating the F-words to document family's goals.
To ensure the Family Plan is meaningful and will be useful for families, the F-words Committee is seeking families' feedback during the development stage. If you are a parent of a child with a disability, please take a moment to review the Family Plan and let us know what you think by completing this 2 minute anonymous survey.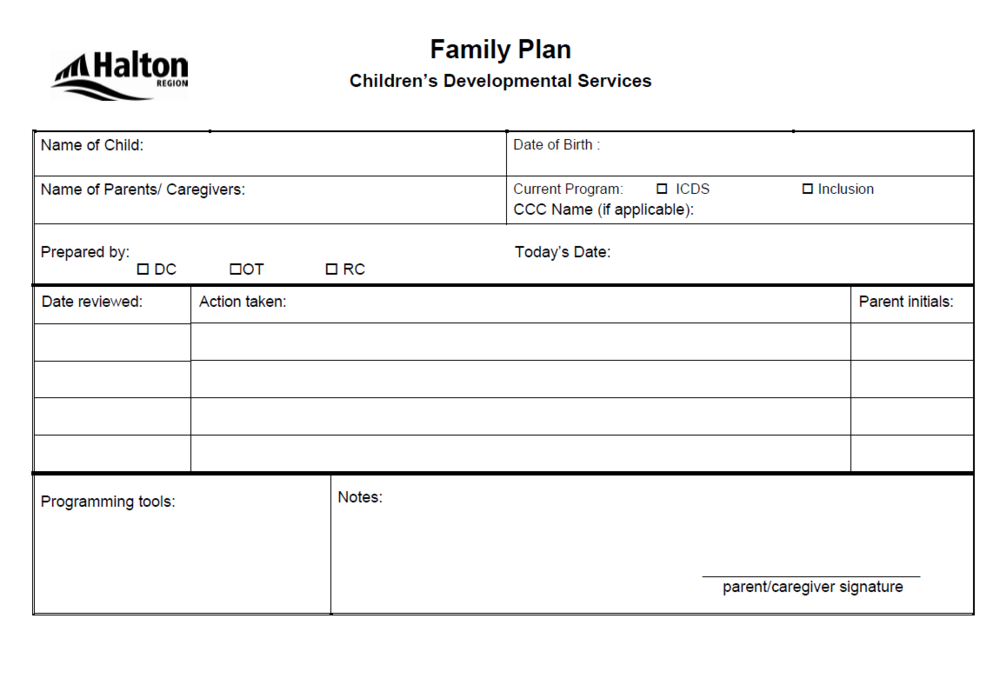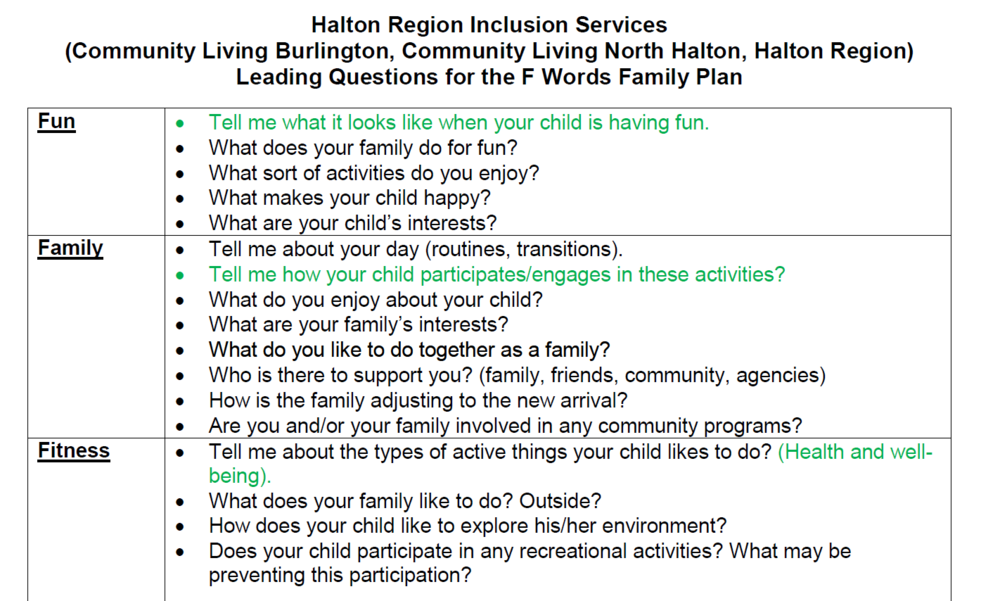 Grandview Children's Centre

Maria Susini (Physiotherapist, Grandview Children's Centre) was looking for a way to work with families in the goal setting process. Recognizing the F-words as a framework to explore what families want to work on and what is important to them, she and a Aryne Fuller (PT student) created an 'ICF Family Goal Sheet' incorporating the six F-words. Maria stated "My hopes [with creating the Goal Sheet] were to better establish family centered, collaborative goal setting to improve the follow through of home programming activities given by therapists. I have started at a single clinical discipline but envision growing this idea into a more multidisciplinary adventure." Since Maria originally contacted us in Spring 2015 we have collaborated together on a number of presentations including the CAPHC Webinar, Grandview Children's Interprofessional Education and Development Day, and a panel presentation at CP-Net Science and Family Day.
As highlighted in Maria's quote, the goal sheet is currently physiotherapy focused, but a future goal is to adapt the goal sheet so that it can be utilized by interdisciplinary teams of clinicians (including occupational therapists, speech pathologists, social workers, etc.)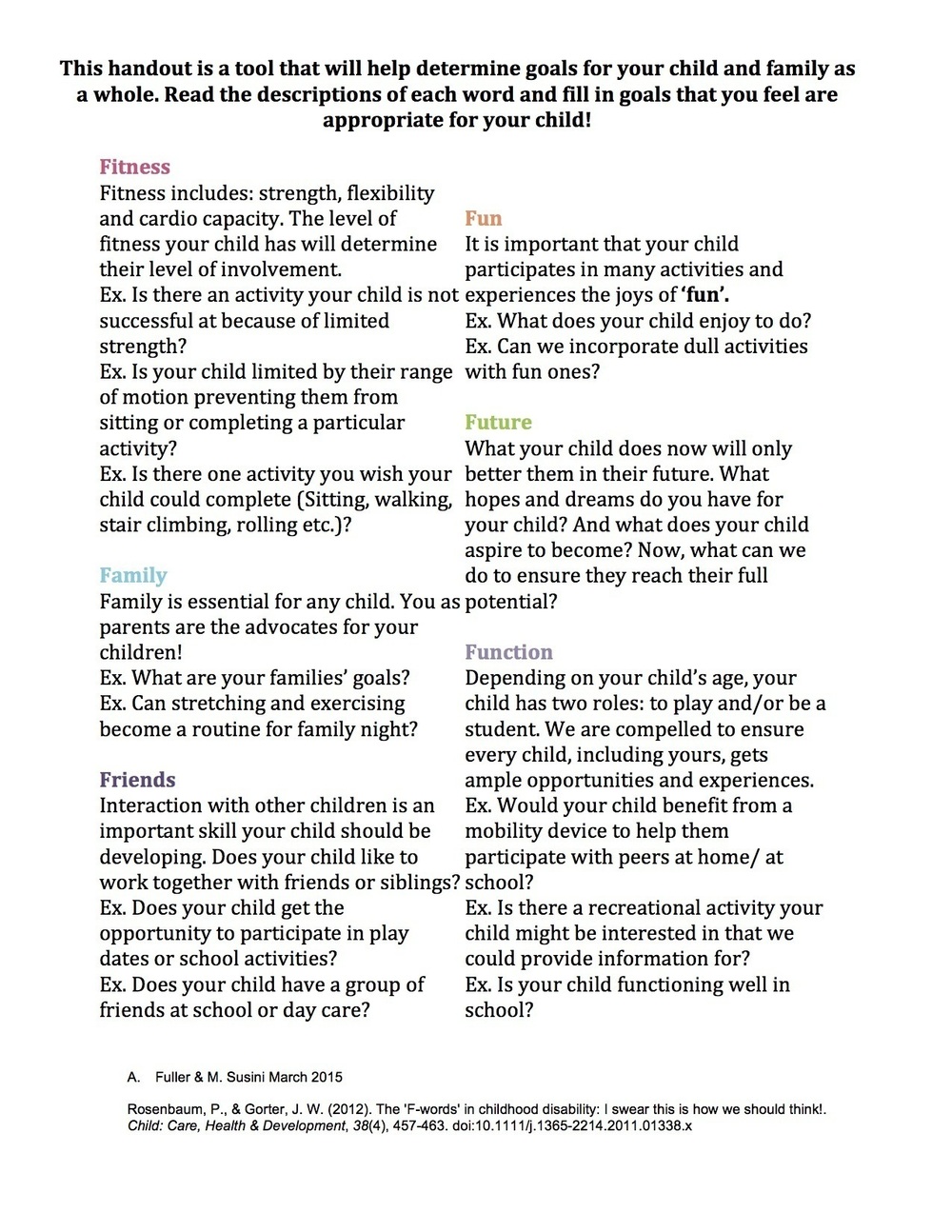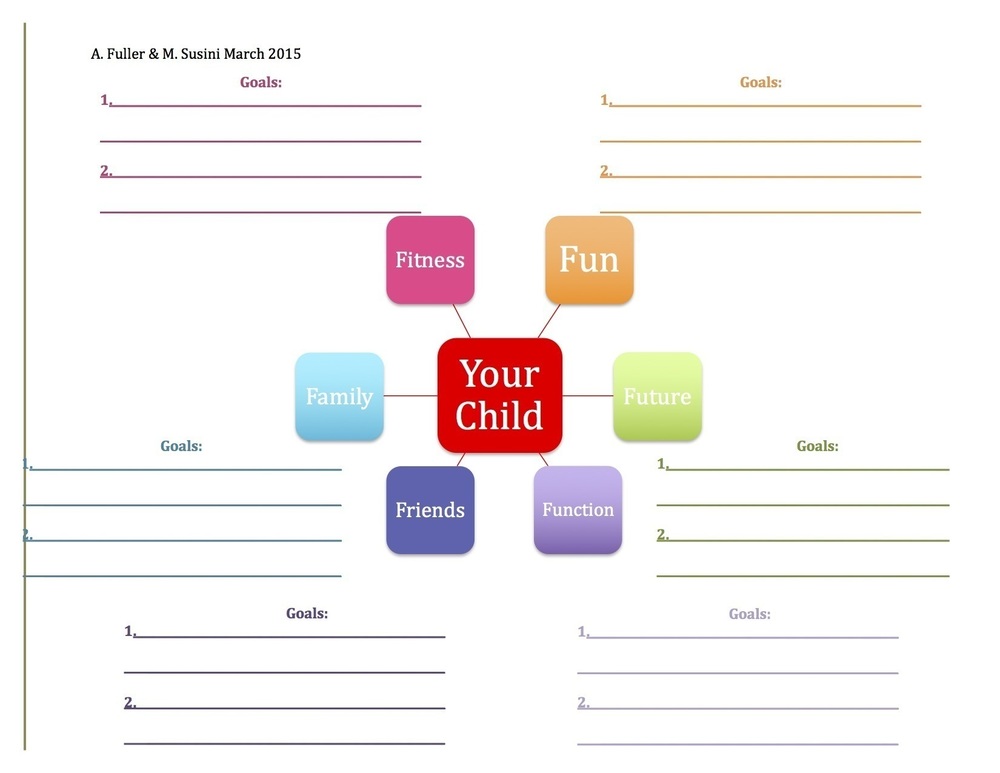 Clare Children's Services, County Clare, Ireland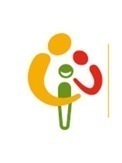 Clare Children's Services in County Clare Ireland is working as an organization to move the F-words into practice. Staff at Clare Children's Services have launched an F-words Message Board in the waiting room to share information on the F-words with families. The board is constantly being updated highlighting new F-words. For example, Function is currently highlighted and there is a picture of a child kicking a soccer ball, and links to how this relates to all the other F- words. To make the board interactive, families are encouraged to draw or write what function means to them and pin it to the board. There are four leaflet holders at the bottom of the board that include a leaflet describing the F-words, F-words goals template, the F-words Agreement, and the original F-words Paper. Multiple copies are provided and families are encouraged to take the information home with them to learn more about the F-words. The team also uses the F-words to talk with new families about services and supports in the context of meaningful life goals. When speaking with Dr. Toby Sachsenmaier (Senior Clinical Psychologist) about why their organization has embraced the F-words she stated, "Our organization has embraced the F-words model because it puts families at the centre of planning and doing, it encourages therapists to work in an integrated way toward mutual goals, and places therapy in the context of meaningful real life experiences."